Shuttle Services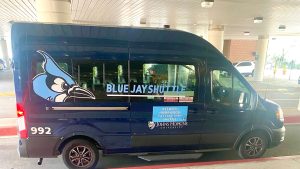 Shuttle Services
To facilitate convenient and eco-friendly transportation, we operate a robust shuttle service that connects different areas of our campuses. Our shuttles are equipped with comfortable seating and a real-time tracking system, allowing you to plan your commute more efficiently. Whether you need to travel between campuses, nearby neighborhoods, or transit hubs, our shuttle service is here to support your transportation needs.
Our shuttle services include daytime services that connect the various Johns Hopkins properties across Baltimore and evening services that provide safe transportation around the Homewood campus and vicinity.
Daytime Buses and Shuttles
Using a combination of transit buses and shuttle vans, ten routes connect the Homewood campus with the following Johns Hopkins properties:
Carey Business School
FastForwardU
Eastern Campus
Keswick Campus
Mount Washington Campus
Hampden Circulator Schedule
Johns Hopkins Medical Institute
The Peabody Institute
R. House
Stieff Silver
Maps and Schedules
For questions regarding the routes, please call 410-516-7275 or email shuttles@jhu.edu. For questions regarding bus timing and tracking for the Homewood – Peabody – JHMI shuttle, contact Academy's dispatch line at 410-391-8700, option #3. Please see the Johns Hopkins Medicine's Parking and Transportation website for shuttles and buses originating from the Johns Hopkins Medical Institute aside from the Homewood – Peabody – JHMI route.
Blue Jay Shuttles are equipped with power sliding doors, onboard cameras, and TransLoc, a GPS-based real-time transit information system available online or through a mobile device.
To make ride requests and track the shuttle vans, go to ondemand.transloc.com on a computer or smartphone. TransLoc's free app is available at transloc.com/app. Dispatchers are available during operating hours at 410-516-8700.
Blue Jay Shuttles will wait up to three minutes upon arrival at the designated pickup location. Passengers are expected to carry all personal items, backpacks, briefcases, etc., on and off the shuttle so as to ensure the shuttle is on time.
Each Johns Hopkins campus has different operating hours, service areas, and operating days.
Homewood Service (year-round except for holidays)
East Baltimore Service (available year-round)
The Blue Jay Shuttle offers a shared ride, so you may or may not be the only passenger and may or may not be dropped off directly. Service parameters include picking up passengers within 10 minutes of request and ride lengths not exceeding 20 minutes.  During busy times (rush hours), shuttles may take up to 15 minutes to arrive.  Dispatchers track the shuttles, and if a ride cannot be provided in a timely manner, a free Lyft will be dispatched.  Passengers do not need a Lyft account or app; messages will be sent regarding what vehicle to expect.
Blue Jay Shuttles all have three-digit numbers (for example, 705, 980). Lyft provides their vehicles' make, model, color, and license plate.  Please confirm before boarding, and provide your first name and last initial to the driver to expedite trips.
Johns Hopkins affiliates are permitted a reasonable number of guest passengers, typically limited to four or one family group. Children are welcome as guests or can be considered an affiliate if enrolled in childcare programs or classes.
Children under the age of 8 must ride in a car seat provided by, installed by, and removed by a Johns Hopkins affiliate guardian who is also a passenger.
Blue Jay Night Ride
Blue Jay Night Ride is an on-demand, curb-to-curb service to and from locations within the service area. Ride requests are accepted beginning at 6 p.m. Ride requests submitted before 2 a.m. will be honored.  Use the TransLoc app to request a ride and track your van from your device, or call 410- 516-8700, and the dispatcher will provide passenger(s) with an estimated arrival time.
Download the TransLoc app to request a ride directly from your smartphone, visit https://ondemand.transloc.com, or call 410-516-8700.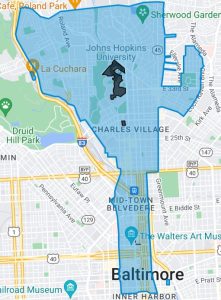 Here are some key points to keep in mind:
The maximum group size for a booked Night Ride is five, and groups larger than this may split into multiple smaller groups to utilize the service. When individuals within a group have different destinations, booking them as separate trips with the same origin location is often more efficient and helpful.
Upon arrival at the pickup location, TransLoc will alert the rider. The alert often states, "The driver has indicated they cannot see you." Please do not be alarmed, as this is the standard wording from our dispatch service provider.  The driver will wait up to three minutes before departing for the next pickup or drop-off.
Passengers are expected to carry all belongings onto and off the van in one trip.  Passengers should not bring any more items than they can carry themselves.
Night Ride service prioritizes safety first, then convenience — meaning that vans with sufficient space will often be sent to other passengers awaiting pickups before being routed toward a drop-off.  Since Night Ride is a shared service, passengers should expect that they frequently will NOT be taken directly from their pickup point to their destination.
If you ever have a question about your ride status or the app isn't behaving how you expect it to, contact our dispatch office at (410) 516 8700 and ask for assistance.
Lyft
Dispatchers may transfer a pending ride from a Blue Jay Shuttle to Lyft during peak service hours. A Lyft driver will be sent directly by the dispatcher—riders do not need to call Lyft, use the Lyft app, or pay. Riders will be notified by text message when their Lyft vehicle arrives.  Passengers are encouraged to verify that the vehicle they are about to enter is the one described in the text message.  The driver will wait no more than three minutes upon arrival, so be ready to go!
Additional questions, comments, or concerns about our Blue Jay Night Ride service may be directed to shuttles@jhu.edu.
East Baltimore Blue Jay Shuttle
The Blue Jay Shuttle – To & From Campus is a shuttle service that provides convenient commuting trips to and from the East Baltimore campus, including the Carey Business School and Peabody. The shuttle offers a free service to all Johns Hopkins Hospital and Johns Hopkins University staff, faculty, residents, postdoctoral fellows, students, and visiting Johns Hopkins Medicine affiliates to and from their residences and the campuses within the service area.
The Blue Jay Shuttle operates in an area proximate to the East Baltimore campus daily from 5 a.m. – 9 a.m. and 5:30 p.m. – 12 a.m. During rush hours, 8 – 9 a.m. and 5:30 – 6:30 p.m., expect both wait and ride times to be near or occasionally over the maximum.
An interactive map is available on TransLoc during operating hours. Outside of operating hours, you can view an interactive Google map and check whether your residence falls within the approximate service area.
Note: this map is an approximation. For locations at the margin of the map, please email shuttles@jhu.edu for verification.
Benefits of the East Blue Jay Shuttle:
Receive real-time shuttle tracking information during your ride via the TransLoc app
From request, be picked up in ten minutes on average, with a goal of 15 minutes maximum
From pick up, be transported in 12 minutes on average, with a goal of 25 minutes maximum
Access an unlimited number of rides per month
Travel in clean, safe, reliable, and well-maintained vehicles
Speak to a dispatcher or supervisor, if needed, during operating hours
Easily report issues, such as lost items or service concerns, to shuttles@jhu.edu
East Baltimore Blue Jay Shuttle FAQs
Blue Jay Shuttle is partnering with Lyft to support safe transportation options within an approximately 1.5-mile radius of the East Baltimore campus, offering free rides for all member organizations, including The Johns Hopkins Hospital, the Johns Hopkins University School of Medicine (SOM), Johns Hopkins Bloomberg School of Public Health, and the Johns Hopkins University School of Nursing. The shuttle service will consolidate and supplement all current safe-ride services, including Lyft SafeRide and the After-Hours route, into one program. It will exclude any trips that are not home-to-campus or campus-to-home. Any Johns Hopkins employee visiting and staying on the East Baltimore campus can also use the service.
Yes, other campus locations, including Carey Business School, Peabody campus, and the Candler Building, are also valid destinations.
East Blue Jay Shuttle is not a social service.  It will exclude any trips that are not home-to-campus or campus-to-home.
Please use an alternative transportation method, such as fixed-route shuttles, the Charm City Circulator, MTA, or your own ride-hailing account (Lyft, Uber, etc.) to travel to restaurants, grocery stores, or other errands.
First, visit TransLoc to download the app.
To see the Blue Jay service offering in the app, you must be sure that you have Johns Hopkins University (as opposed to Johns Hopkins Medical Institute) visible as one of your agency preferences. To do this, go to 'Settings' at the bottom right of the app, select 'Agency Preferences,' and either search or scroll to find Johns Hopkins University. Select 'Visible,' and you should be presented with a view of this service option.
As a reminder, a requested ride must originate or terminate at a 'hub' or campus/work location (the pre-determined blue dots on the map, which correspond to campus/building addresses).
Make sure you have selected the correct 'East Baltimore Blue Jay' service option; there is both an AM and PM service.
Finally, the TransLoc quick tutorials can be viewed for more information and tips.
Lyft SafeRide remains available between 12 a.m. – 5 a.m. to those who are eligible.
Providing a majority of rides in Blue Jay Shuttle vans with professional, trained drivers, GPS-tracking for passengers and supervisors, and onboard cameras greatly improves the security and oversight to ensure all passengers have a safe, comfortable ride.
The Blue Jay Shuttle is an equitable transportation option for all Hopkins affiliates. It will expand access to service to a much larger population of riders while continuing to serve those previously enrolled in SafeRide.
The current Lyft SafeRide program is only for students and trainees, not employees.
Since the After-Hours Shuttle operates during similar hours in a smaller area, the Blue Jay Shuttle will replace this service.
Drivers are trained to be an extra set of eyes, both on the road and for passengers who are pedestrians to and from the shuttle. Dispatchers and a supervisor know where all vehicles and passengers are at all times.
Passengers have easy access to current and past rides.
Vehicles are well maintained and on-board cameras provide peace of mind.
Blue Jay Shuttles are easy to recognize and provide passengers with plenty of space.
JHU-operated shuttles include the Homewood-Peabody-JHMI Shuttle, Blue Jay Shuttle, and other Weekday fixed-route services.
For shuttles and buses originating from Johns Hopkins Medicine locations aside from the above-referenced Homewood-Peabody-JHMI route, please visit hopkinsmedicine.org/security_parking_transportation/transportation.
The East Baltimore Blue Jay Shuttle – To & From Campus will provide service to an even larger area.
Emailing shuttles@jhu.edu is the best way to ask questions or submit concerns.
During operating hours, call 410-516-8700 to speak with a dispatcher or to request to speak with a manager.
The estimate that the system generates is just that- an estimate. Many variables contribute to its calculation, and it almost always changes prior to a vehicle assignment for your trip. Trained dispatchers review pending trip assignments and will dispatch a Lyft when necessary to meet our service guidelines.  This generally occurs within ten minutes without a van assigned.
Our stated service goals are:

From request, be picked up in ten minutes on average, with a goal of 15 minutes maximum.
From pick up, be transported in twelve minutes on average, with a goal of 25 minutes maximum.
During rush hours, 8 – 9 a.m. and 5:30 – 6:30 p.m., expect both wait and ride times to be near or occasionally over the maximum.
Sometimes, overall system demand is low and sometimes high. Dispatchers actively monitor operations to ensure that trips are assigned, and riders are picked up in a timely fashion. Additionally, the service area is geographically large and diverse, and depending upon the address of your residence, you may see wait or ride times within the higher end of the target service times if you are towards the edges of the service boundaries.
To determine if your address is in the service area, download the TransLoc app and review the interactive service area map. If your address is not in the service area, the app won't allow you to book a ride. If you believe this is in error, please contact us at shuttles@jhu.edu, and we can review the situation.
We are excited to service the current area boundaries. We're committed to delivering riders to their destinations within our service guidelines. Currently, there are no plans to expand the hours of service or the area boundaries. We welcome ongoing engagement as we deliver more passengers, collect more information, and continuously review the operation.
Inclement Weather
In the case of severe weather conditions, bus and shuttle service may be temporarily suspended as circumstances warrant, but shall be resumed thereafter as soon as reasonably possible. Our plan for University closures and delayed openings may be found on our alerts and outages page.
Notifications will be kept up-to-date on TransLoc and our Facebook page.