Parking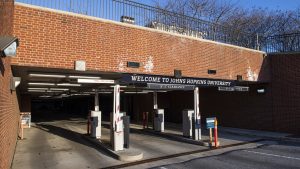 Parking
The Homewood Campus Parking Office manages a variety of garages, lots, and metered parking on campus and in the Charles Village area. Our parking services provide secure and accessible parking options throughout our Homewood campus, ensuring that you have a convenient place to park your vehicle. We have implemented parking management systems to streamline the parking process and make it easier for you to find available spaces.
Parking Options
Parking availability on the Homewood campus is determined by affiliation with Johns Hopkins University and available spaces. Many of our more popular locations have waitlists at any given time.
Accessible Parking
Transportation Services issues special permanent and temporary parking permits to faculty, staff, and eligible students who require accessible parking.
Parking Passes & Permits
Request Parking Permit
This form is used to apply for a Johns Hopkins University parking permit or update your information.
Make a Payment
This form is used to make an additional online credit card payment for your parking permit or to pay a citation by credit card.
Cancel Parking Permit
This form is used to cancel your current parking permit.
Appeal Parking Citation
Use this form to appeal a parking citation within seven days of issuance.
Parking Resources
Frequently Asked Questions
Locations and Rates
Parking Lot Rentals
Parking Vouchers
Rules and Regulations