Start a Project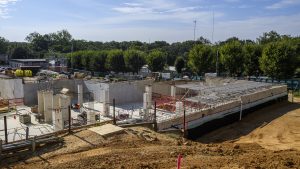 With a commitment to excellence, innovation, and sustainable practices, our Capital Projects & Planning team is here to assist you at every step of your project journey. Whether you're planning a renovation, repairs, or new construction, we bring together the expertise, resources, and collaborative solutions to ensure the successful delivery of your vision.
As your one-stop resource, this page serves as a comprehensive guide to assist you with starting your project and navigating our project request form. If you have any questions, please email us at prf-jhfre@jhu.edu.
Once you complete the Project Request Form, a member of our Capital Projects & Planning team will contact you.
Routing Instructions
Department/Division: Complete all known information. Send the completed and approved project request form to the JH Facilities or Information Systems Office that will perform the work.
JH Facilities, IT, etc.: Review the form and its content. If the requestor has not completed all necessary information, please return the request. Send the completed form to fassc@jhmi.edu for processing.
Contacts: JH Fixed Assets / Projects Systems Shared Services – fassc@jhmi.edu, http://ssc.jhmi.edu/fixedassets
For assistance completing these forms, contact your departmental administrator or business office. Please email fassc@jhmi.edu for technical assistance.
Form Completion Instructions
Section 1: Project Requestor / Scope
Project/Scope Description: This section is to help Facilities understand what the project should achieve. Please briefly describe what should be done and the reason for the request. It is important to note the date of this area's last construction/renovation.
Applicant: The requesting customer by site and institution.
Requesting Cost Center: The cost center requesting the project and funding the expenses.
Requested Start Date: The date the project is scheduled to begin (please estimate if you are not sure)
Planned Finish Date: The date the project is expected to finish (please estimate if you are not sure)
Section 2: Assets
Assets
Section 3: Financials
Business Area: List the BA to which the department executing the project belongs.  Provide the Fund Number and Fund Name, if known.  If the project is multi-funded, please provide all BAs, Funds Numbers, and Fund Names.
Plant 1099: University Service Provider
Plant 2099: Health System Service Provider
Project Type: For JH HopkinsOne SAP, project types will determine the financial breakdown of projects.  "C" projects will be capital projects that automatically create the Asset under Construction (AuC) designation for settlement, while "E" projects are those that are expensed and settled to expense accounts/cost centers.
The following are available project types:
| | |
| --- | --- |
| B1 | Library |
| C1 | Safety & Regulatory Compliance |
| C2 | Fleet Repair |
| C3 | Minor Equipment |
| C4 | Major Equipment |
| C5 | Major Construction |
| C6 | Information Systems |
| C7 | Landlord Improvement |
| CG | Grants |
| E1 | Expense |
| H1 | In house |
Section 4: Approvals
Approval Process and Form Routing: The administrator of the functional unit/department must sign all requests. All SOM projects must also have the SOM project director sign. Any form not signed by the administrator will not be processed and will be returned.
JHU:
<$100,000 (non-capital, no Trustee approval)
$100K – $500K (capital, no Trustee approval)
$500K – $2M (capital, no Trustee approval)
$5M+ (major capital and Trustee approval)
JHHS:
Section 5: JH Facilities / Information Technology
Person Responsible: Project manager
Responsible Cost Center: Cost center responsible for carrying out the project and home CC of the project manager.