Roofing Services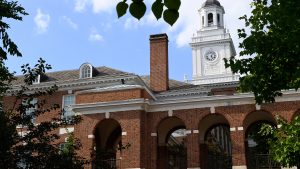 Roofing Services
Our team of skilled roofers is dedicated to protecting and safeguarding the buildings and walkways throughout the Homewood campus. Our roofers are responsible for an array of services ranging from repairing gutters, steps, and walls, to hanging banners and power washing walkways.
Routine Maintenance
Clean or repair gutters
Investigate window leaks
Repair exterior brick, concrete, or stone steps and walls
Power wash walkways, patios, and wall caps
Repair ceramic tiles
Hang banners
Clean window wells
Special Requests (requires a fee)
Banner hanging
Provide ladders and equipment
Power washing as requested
Roofing Shop
Hours:
Monday – Friday
April – September, 6 a.m. – 2:30 p.m.
October – March, 7:30 a.m. – 4 p.m.
Supervisor:
Eric Hoel
Hourly Rates:
$53.00 / Overtime $79.50
Estimates
Contact the Customer Service Center and provide as much detail about the requested repair as possible. One of our staff will contact you to schedule an appointment to discuss your needs and provide an estimate.