Transportation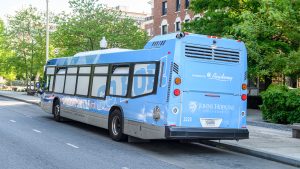 At Johns Hopkins, we understand the importance of reliable and efficient transportation for faculty, staff, students, and visitors alike. We strive to offer sustainable and convenient transportation methods that make navigation of our Homewood campus and surrounding areas a seamless experience.
Accessible Transportation
Transportation Services provides faculty, staff, students, and visitors who need assistance traveling with accessible transportation to get around the Homewood campus.
Shuttle Services
JHU's shuttle services include daytime services that connect the various Johns Hopkins properties across Baltimore and evening services that provide safe transportation around the Homewood campus and vicinity.
TransLoc
JHU Transportation Services has partnered with TransLoc to provide real-time bus and shuttle tracking information and booking access to on-demand Blue Jay shuttle services. View real-time shuttle tracking information or download the TransLoc app or visit http://ondemand.transloc.com to book an on-demand Blue Jay Shuttle ride and see real-time tracking information.
View TransLoc's quick tutorials to help you learn how to set up and use the app.
Mystery Rider Feedback
Your feedback is crucial to helping us improve our services. We would like to know about your experience riding our Blue Jay shuttles. Share your feedback by completing our Mystery Rider Feedback form. We value your insights and will carefully consider any recommendations for enhancing your shuttle experience.
Hop Van Rentals
Transportation Services allows eligible and approved affiliates of Johns Hopkins University to rent a Hop Van for their transportation needs. All drivers of a Hop Van must be certified to operate a Hop Van.
Custom Transportation
Transportation Services offers chartered shuttles and buses for JHU departments, organizations, and student groups seeking transportation for events and meetings. We have a variety of vehicles available to fit your needs.
Transportation Resources
Resources and Links
Zipcar
Scooter Safety on Campus