Leasing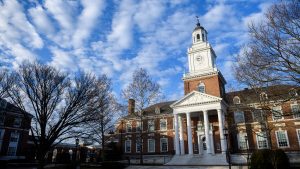 Leasing
Through market strategy, space utilization, and leveraging our purchasing power, our leasing team successfully facilitates the best overall value procurement of all third-party leased spaces for the Johns Hopkins real estate portfolio. We handle all aspects of the leasing process, including property marketing, tenant screening, lease negotiations, and lease administration. Our expertise extends to various property types, from office and retail spaces to research facilities and residential units.
Leased Properties
The leasing team acquires leased spaces throughout Baltimore and the surrounding counties. These spaces are occupied by various Johns Hopkins University and Johns Hopkins Health System constituents.
Examples of leased spaces within the JHU and JHSS portfolios include:
100 International Dr., Harbor East
Candler Building
750 E. Pratt St.
7600 Montpelier Rd.
Ballston Quarter, Arlington VA
Inquiries
If you have any questions or concerns or would like to inquire about Johns Hopkins' leased properties, please email the Director of Leasing, James Callahan, at jcallah6@jhu.edu.