Capital Projects & Planning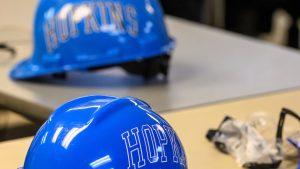 Capital Projects & Planning
As stewards of the Johns Hopkins University's physical environment, through collaborative, creative, and professional project leadership, Johns Hopkins Facilities & Real Estate's (JHFRE) Capital Projects & Planning team uses its expertise in planning, architecture, design, and construction to create exemplary spaces, buildings, and landscapes to support JHU's mission.
The Capital Projects & Planning team is also responsible for the documentation and stewardship of the design standards and guidelines for campus planning, site and building design, furnishings, high-performance buildings, mechanical, electrical, plumbing, and fire systems. The team also leads campus Master Plan efforts to ensure that our land and facilities are used effectively and efficiently and to consider the university's overall development.
While JHFRE is responsible for the overall development of JHU's capital plan and a significant portion of its execution, some divisions also have design and construction authority.
Areas We Support
Krieger School of Arts & Sciences
Whiting School of Engineering
Carey Business School
School of Education
Peabody Institute
School of Nursing
Nitze School of Advanced International Studies
Homewood Student Affairs
Sheridan Libraries
University Administration
Eastern Campus
Mt. Washington Campus
Services We Provide
Preliminary Studies
Renovations and New Construction
Repairs, Capital Investment, and Deferred Maintenance
Site Improvements and Landscaping
Signage, Furniture, Fixtures, and Equipment
Space Inventory Management
Start a Project
With a commitment to excellence, innovation, and sustainable practices, our Capital Projects & Planning team is here to assist you at every step of your project journey. Whether you're planning a renovation, repairs, or new construction, we bring together the expertise, resources, and collaborative solutions to ensure the successful delivery of your vision.
Working With Us