About JHFRE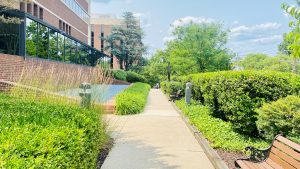 Welcome to the Johns Hopkins Facilities and Real Estate (JHFRE) team, the dedicated group responsible for managing and maintaining the state-of-the-art facilities and real estate assets of Johns Hopkins University. With a commitment to excellence and a focus on innovation, our team plays a vital role in providing an exceptional environment supporting the institution's mission of research and education.
Services We Provide
At JHFRE, we provide a comprehensive range of services to support the diverse needs of the Johns Hopkins community. Our dedicated professionals specialize in the following areas:
Capital Projects & Planning: Our team of experts collaborates with stakeholders to envision, plan, and design state-of-the-art facilities that foster innovation and excellence. We oversee construction projects from concept to completion, ensuring adherence to quality standards and project timelines. While some divisions retain design and construction authority, JHFRE is responsible for the overall development of the University's Capital Plan and Trustee engagement and approvals.
Facility Operations: We are responsible for the day-to-day management and maintenance of the Homewood campus facilities. Our dedicated professionals ensure that buildings and infrastructure are safe, functional, and conducive to the needs of the Homewood campus.
Transportation Services: We provide transportation solutions that facilitate seamless movement within and around our campuses. From shuttle services to parking management, we strive to enhance accessibility and convenience for students, faculty, staff, and visitors.
Real Estate & Property Management: Our team manages the university's real estate portfolio, including property acquisitions, leasing, and strategic planning. We work closely with internal stakeholders to optimize space utilization and maximize the value of our real estate assets.
Sustainability: We integrate sustainable practices into all aspects of our operations, striving to minimize our environmental impact and promote energy efficiency. Our team implements innovative strategies to enhance the sustainability and resilience of our facilities, contributing to a greener future.
Mission
At JHFRE, we aim to deliver exceptional facilities and real estate services that support and enhance Johns Hopkins' strategic initiatives. We strive to create and maintain safe, sustainable, and inspiring world-class facilities for education and research that foster collaboration, productivity, and well-being for all.
Vision
Our vision is to be a leader in facilities and real estate management, driving innovation, sustainability, and operational excellence. We aim to continuously improve our processes and practices, leverage cutting-edge technologies, and foster strategic partnerships to create spaces that support the evolving needs of our academic and research mission.
Key Principles
Commitment to Excellence and Positive Customer Experiences
Collaboration and Partnership
Sustainability and Stewardship
Innovation and Adaptability
Safety and Well-being
Inclusive and Supportive Work Environments