Contact Us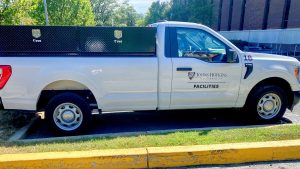 Facility Operations
We are committed to providing exceptional service and ensuring the University's Homewood campus remains in excellent condition. We're happy to assist you with any inquiries, concerns, or feedback regarding the facility operations on the Homewood campus. Please don't hesitate to contact us. Our dedicated team is ready to assist you.
Office Hours
Our Customer Service Center office hours are 8:30 a.m. – 5 p.m., Monday – Friday.
Call Us
Give us a call during our office hours, and one of our friendly customer service team members will be happy to assist you.
Customer Service Center: 410-516-8063
Email Us
You can also send us an email at facilities@jhu.edu.
Our team will respond to your inquiry as soon as possible. Please provide detailed information in your email to help us better understand and address your question or concern.