Painting Services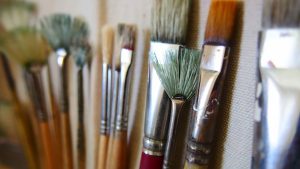 Painting Services
Our skilled painters perform interior and exterior painting on a rotational basis, drywall repairs, and plastering. Painters also repair or replace glass windows and remove graffiti.
Routine Maintenance
Interior and exterior painting
Drywall patching and painting
Replace broken glass in windows and doors
Make and install signage on doors, room numbers, desk signs, restrooms, etc.
Removing graffiti
Special Requests (requires a fee)
Painting of departmental space that was painted less than seven years prior
Custom painting or glazing requests
Painting Shop
Hours:
6:30 a.m. – 3 p.m., Monday – Friday
Supervisor:
Greg Schubert
Hourly Rates:
$53.00 / Overtime $79.50
Estimates
Contact the Service Center and provide as much detail about the requested repair as possible. One of our staff will contact you to schedule an appointment to discuss your needs and provide an estimate.