Carpentry Services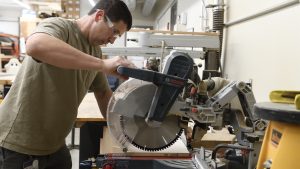 Carpentry Services
We provide professional carpentry services to meet the diverse needs of the Homewood campus. Our skilled carpenters are committed to delivering high-quality craftsmanship and are experienced in addressing a wide range of repair and maintenance needs, from woodworking to window repair services.
Routine Maintenance
Maintain and repair interior and exterior wood components (window frames, doors and frames, walls, floors, decorative molding, etc.)
Replace and repair drop-ceiling systems
Repair and replace carpet and floor tiles
Repair window operations
Maintain and adjust door swing and latching
Hang pictures and heavy décor items on walls
Mount monitors, screens, and gas tank holders
Assemble and disassemble furniture
Drywall patching
Seal drafts around windows
Repair, service, or replace window blinds and shades
Build, modify, install, or repair shelving
Special Requests (requires a fee)
Renovations of departmental space
Furniture assembly
Carpet replacement in departmental space
Furniture repairs
Custom cabinets, shelves, etc.
Hanging of bulletin boards, chalkboards, pictures
Carpentry Shop
Hours:
7:30 a.m. – 4 p.m., Monday – Friday
Supervisor:
Eric Hoel
Hourly Rates:
$53.00 / Overtime $79.50
Estimates
Contact the Customer Service Center and provide as much detail about the requested repair as possible. One of our staff will contact you to schedule an appointment to discuss your needs and provide an estimate.