Electrical Services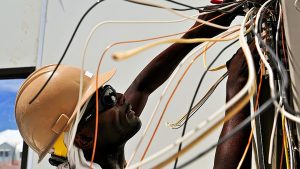 Electrical Services
Our professional electricians maintain and repair low and high-voltage electrical systems, power outlets, interior and exterior lighting, elevators, and fire alarm systems.
Routine Maintenance
Electrical system repairs

Outlets
Wiring
Light fixtures
Bulbs

Life safety maintenance

Fire alarms
Emergency generators
Exit signs
Emergency lights
Special Requests (requires a fee)
Customizing a departmental space
Maintenance of department-owned equipment
On-site event support
Electrical Shop
Hours:
7:30 a.m. – 4 p.m., Monday – Friday
Supervisor:
Lu Beauzile
Hourly Rates:
$53.00 / Overtime $79.50
Estimates
Contact the Customer Service Center and provide as much detail about the requested repair as possible. One of our staff will contact you to schedule an appointment to discuss your needs and provide an estimate.