Services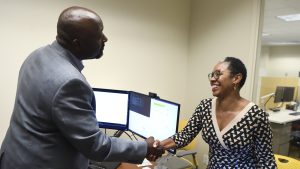 Our Capital Projects & Planning team provides project management and design services for projects of all sizes. All projects utilizing design professionals or where building or trade construction permits are required must be managed by our office. We work with each client to establish the scope of services needed, solicit proposals from design and construction professionals, issue and manage contracts, facilitate project design review by required internal and external entities, maintain the project budget and schedule, and collect and maintain all close-out materials.
Preliminary Studies
Study efforts could include programming, space test fits, existing condition surveys, and preliminary cost estimating. This is the first step to determine the scope of work required and, as needed, engage outside professional consultants to conduct and document these investigations in collaboration with the in-house team.
Renovations and New Construction
Renovations include improvements to the base building and/or interior space modifications. Projects may be initiated by JHFRE (for example, accessibility or Life Safety improvements) or by individual divisions (for example, modifications to accommodate new or existing faculty or programs). The Capital Projects & Planning team assembles, guides, and provides leadership to the entire team for new construction and renovation projects, from initial architectural programming, feasibility studies, budget determination, planning studies, and existing condition surveys, through building design, bidding, construction, occupancy and post-occupancy follow-up. We assign an internal project manager and architect to projects at the very beginning to work with the end-user throughout the process of selecting consultants, executing the work, and ensuring that the results meet expectations.
Repairs, Capital Investment, and Deferred Maintenance
The Capital Projects & Planning team works with Facility Operations and other facilities maintenance professionals to assess the current conditions of our facilities and grounds, identify and prioritize areas of need, and initiate and manage the necessary work to restore our spaces. This includes but is not limited to renovations required to make spaces accessible, replacement of equipment that has reached the end of its productive life, and building repairs or alterations.
Site Improvements and Landscaping
Site and landscape improvements can be planned and performed as a stand-alone project or in conjunction with a new construction or renovation project. Examples of work include rearranging or installing new site furniture (benches, bicycle racks, site lighting), installing new utilities, re-grading and landscaping, improving access by repairing or installing new ramps, stairs, and walkways, and implementing new Stormwater Management practices (such as rain gardens, infiltration swales, green roofs, or impervious paving). These efforts will comply with the overall framework of the Campus Master Plans and with JHU Design Standards and Guidelines.
Signage, Furniture, Fixtures, and Equipment
We can provide guidance on how to incorporate the University's standard interior and exterior signs in your space or on your building. We can assist with selecting and procuring furniture for an existing space, a larger renovation, or a new construction project. We will help you develop a furniture layout, provide guidance on selecting furniture styles, manufacturers, and finishes, and direct you to an approved vendor for purchasing. If you would like to rearrange the furniture in your existing space or reuse existing furniture in a new space, we can also help you envision a space plan for that furniture.
Space Inventory Management
Johns Hopkins Facilities & Real Estate (JHFRE) maintains inventories of all JHU buildings, rooms, and floor plans in the Space Management System. This information is used for the planning, budgeting, and charging of space and the Federal indirect cost recovery process.