Locksmith Services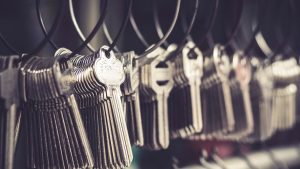 Locksmith Services
Our skilled locksmiths are dedicated to ensuring and maintaining a safe and efficient campus environment. Locksmiths are responsible for maintaining all lock and key systems and door hardware.
Routine Maintenance
Install, adjust, repair, or service door closers and automatic operators
Service overhead doors
Cut keys to request
Rekey locks
Change or remove locks
Provide keyed padlocks
Remove stuck keys
Inspect, adjust, or replace entry doorknob or handle
Adjust or service entry lock
Special Requests (requires a fee)
Copying keys
Replacing locks and/or keys for departmental spaces
Providing keys to file cabinets and desk locks by code (if available)
*Submit these requests through your departmental key coordinator. If you need to find out who that is, call 410-516-8063.
Lock Shop
Hours:
7:30 a.m. – 4 p.m., Monday – Friday
Hourly Rates:
$53.00 / Overtime $79.50
Estimates
Contact the Customer Service Center and provide as much detail about the requested repair as possible. One of our staff will contact you to schedule an appointment to discuss your needs and provide an estimate.