Real Estate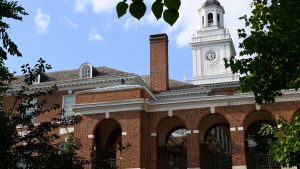 Real Estate & Asset Management
Welcome to the Real Estate and Asset Management group within Johns Hopkins Facilities & Real Estate team. We take pride in overseeing a diverse portfolio of properties that support the university's mission as well as enhance the campus experience for staff, faculty, and students.
Our team is dedicated to supporting and providing the "off-campus" spacing needs of the Johns Hopkins enterprise. Through implementing best practices, aligning strategic objectives, portfolio management, and strategic planning, we provide for both the institution's short-term and long-term real estate needs while focusing resources on core pursuits.
Services We Provide
Whether you're seeking assistance in asset management, leasing, finance, development, or strategic pursuits for the Johns Hopkins University, Johns Hopkins Health System, or various Johns Hopkins affiliates, we are here to help.
Asset Management

Oversees and optimizes the Johns Hopkins' owned property portfolio.

Finance

Enhances financial capabilities through planning, investing, and management.

Leasing

Manages the procurement of all third-party spaces leased by Johns Hopkins.

Strategic Pursuits

Manages the strategic and tactical partnerships and acquisitions.
Inquiries
We welcome the opportunity to discuss how our real estate group can support and fulfill the real estate needs of the Johns Hopkins community. For inquiries, please contact our team at abailey@jhu.edu, and we'll be happy to assist you.
Johns Hopkins Facilities & Real Estate does not handle residential housing. For housing options, please contact Homewood Student Affairs at housing@jhu.edu or 410-516-7960.